【Successful Development of Pathological AI】 Now possible to classify Breast Invasive Ductal Carcinoma in histopathological whole slide images -Published in "Cancers / Special Issue: Artificial Intelligence in Oncology"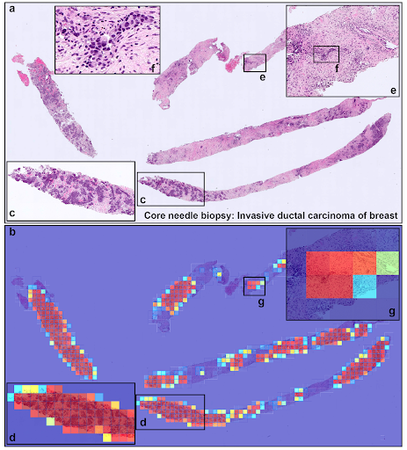 Medmain Inc. (Headquarters: Fukuoka City, Fukuoka Prefecture, CEO: Osamu Iizuka, hereinafter "Medmain"), a provider of "PidPort" pathological diagnosis support solutions, has succeeded in developing deep learning models to breast invasive ductal carcinoma in histopathological whole slide images.
We would also like to announce that a paper on this development has been submitted to Cancers issued by MDPI (https://www.mdpi.com/), and was published in the special edition of Artificial Intelligence in Oncology on October 26, 2021.
DOI : https://www.mdpi.com/2072-6694/13/21/5368
Invasive ductal carcinoma (IDC) is the most common form of breast cancer. For the non-operative diagnosis of breast carcinoma, core needle biopsy has been widely used in recent years for the evaluation of histopathological features, as it can provide a definitive diagnosis between IDC and benign lesion (e.g., fibroadenoma), and it is cost effective. Due to its widespread use, it could potentially benefit from the use of AI-based tools to aid pathologists in their pathological diagnosis workflows. In this paper, we trained invasive ductal carcinoma (IDC) whole slide image (WSI) classification models using transfer learning and weakly-supervised learning. We evaluated the models on a core needle biopsy (n = 522) test set as well as three surgical test sets (n = 1129) obtaining ROC AUCs in the range of 0.95–0.98. The promising results demonstrate the potential of applying such models as diagnostic aid tools for pathologists in clinical practice.